Während ein Großteil der Automobilindustrie während COVID-19 stagnierte, entwickelte sich der Markt für leichte Nutzfahrzeuge (LCV) rasant. Die Nachfrage nach Transportern stieg, da die Kunden verstärkt auf den Online-Handel setzten und die Unternehmen unbedingt mit dem veränderten Kaufverhalten Schritt halten wollten.
Nun hat der Sektor jedoch mit den gleichen externen Schwierigkeiten zu kämpfen wie der gesamte Automobilmarkt. Die Halbleiterknappheit, die durch den Ukraine-Krieg verursachten Probleme bei der Lieferung von Bauteilen und der Druck, auf emissionsfreie Technologien umzusteigen, führen zu rückläufigen Verkaufszahlen bei neuen Transportern. Die Listenpreise für Neufahrzeuge steigen, während die Restwerte (RW) im Allgemeinen positiv bleiben.
Ebenso wie auf dem Pkw-Markt gibt es hier einen zunehmenden Trend zur Elektrifizierung, insbesondere angesichts steigender Kraftstoffpreise. Der Markt für leichte Nutzfahrzeuge (LCV) stellt eine bedeutende Entwicklungschance für die Elektrifizierung dar. Allerdings müssen zunächst einige echte Hürden überwunden werden, wie z. B. Ladezeiten, Infrastruktur und logistische Praktikabilität.
Aber auch die Wasserstoff-Brennstoffzellentechnologie ist eine vielversprechende Möglichkeit für den Kleintransporter-Markt. Wenn es um emissionsfreie LCV geht, bietet diese Technologie erhebliche Vorteile gegenüber batteriegestützten Antrieben. Unter anderem kürzere Tankzeiten und bessere Nutzlastmöglichkeiten, da das Batteriegewicht wegfällt. All dies könnte dazu führen, dass der Markt die Entwicklung dieser Treibstoffart stärker vorantreibt.
All diese Themen wurden in dem jüngsten Autovista24-Webinar "Europas Markt für leichte Nutzfahrzeuge – Der Weg in die Zukunft für neue und gebrauchte Transporter" besprochen. Die Diskussionsteilnehmer befassten sich dabei mit unterschiedlichen europäischen Wirtschaftsszenarien, der Restwert-Entwicklung, den Aussichten für den britischen und den deutschen Markt, dem E-Transporter-Markt sowie der Frage, wie Wasserstoff in diesem Segment zulegen könnte.
Infrastruktur und andere Hürden
Der LCV-Markt sei ein schlafender Riese, was die Elektrifizierung betrifft, meinte Dr. Christof Engelskirchen, Chief Economist der Autovista Group. Es gebe allerdings noch einige Herausforderungen zu bewältigen, nicht zuletzt bei der erforderlichen Infrastruktur. Die bestehende E-Infrastruktur ist auf den Pkw-Markt ausgerichtet, was bedeutet, dass die Ladestationen für Kleintransporter teilweise zu eng sind, da diese größere Parkflächen und mehr Höhe benötigen. Zusätzlich brauchen Lieferwagenfahrer eine schnelle Ladezeit, um Lieferverzögerungen und daraus resultierende Auswirkungen auf die Geschäftskosten zu vermeiden.
Eine Lösung könnte die Einrichtung von Lieferzentren an den Stadträndern sein, von denen aus die letzte Lieferetappe mit Elektro-Transportern erfolgt. Laut Christian Schneider, Head of Analytics der Autovista Group, sollten solche Einrichtungen über spezielle Ladestationen für Lieferwagen verfügen.
"Obwohl alle Hersteller mittlerweile Elektrofahrzeugmodelle auf den Markt bringen, vermögen sich nur wenige auf dem Gebrauchtwagenmarkt durchzusetzen", so Andy Picton, Chief Editor bei Glass's, einem Unternehmen der Autovista Group. Gebrauchte E-Transporter würden sich möglicherweise besser für kleine und mittlere Unternehmen sowie Einzelunternehmer eignen, da diese Unternehmen in der Regel über kleinere Budgets verfügen, so dass preisgünstige Modelle attraktiver sind. Picton fügte hinzu, dass die jüngsten Kraftstoffpreiserhöhungen den Wechsel zu E-Fahrzeugen beschleunigen könnten.
Die Entwicklung neuer E-Transporter sei teuer, was zu einer zunehmenden Anzahl von Partnerschaften führe, wie z.B. die zwischen Ford und Volkswagen, meinte Picton außerdem. Andreas Geilenbruegge, Head of Valuations bei Schwacke/Autovista Group, merkte ebenfalls an, dass die Hersteller an der Reichweite und den Ladezeiten arbeiten müssten, um die Akzeptanz zu erhöhen. Dafür bräuchte es vor allem spezielle Ladestationen für E-Transporter – etwas, woran die Hersteller bereits arbeiten. Eine weitere Herausforderung stellt der Handel dar, da die Händler neben den technischen Daten und der Preisgestaltung auch die Technologie der Elektrofahrzeuge und deren Vorteile erklären müssten.
"Die Fahrzeughersteller stehen unter einem dreifachen Druck: die persönlichen CO2-Reduzierung, das allgemeine CO2-Fußabdruck-Ziel und die Vorgaben der Europäischen Kommission, nach der die Emissionen bis 2035 auf null reduziert werden sollten", erklärte Pierre-Yves Combeaud, Vertriebsleiter bei Hyvia, einem Unternehmen für Wasserstoffmobilität. "Wir müssen den Unternehmen die Möglichkeit bieten, eine alternative Kraftstoffquelle für anspruchsvolle Fahrten zu nutzen – das gilt vor allem für große und eventuell auch mittelgroße LCVs."
Wasserstoff als Option
Derzeit fahren mehr als 80 % der leichten Nutzfahrzeuge auf Europas Straßen mit Dieselmotoren. Grüner Wasserstoff bietet in vieler Hinsicht ähnliche Vorteile wie Diesel, wie z. B. kurze Betankungszeiten und große Reichweiten, jedoch ohne die schädlichen Emissionen. Die kohlenstofffreie Technologie ermöglicht den Fahrzeugen außerdem eine höhere Nutzlast, da keine schweren Akkus entscheidendes Gewicht hinzufügen.
Ebenso wie in der Frühphase des E-Auto-Marktes ist die fehlende Infrastruktur jedoch einer der Bereiche, der die Entwicklung und den Einsatz der Wasserstofftechnologie verzögert. Aber das wird sich ändern, wie Combeaud betonte: "Es ist möglich, dass es bis 2030 in Frankreich und Deutschland 1000 Wasserstofftankstellen geben wird, während bis 2035 im Rahmen des von der Europäischen Kommission angekündigten "Fit für 55"-Pakets alle 50 km eine Tankstelle auf den europäischen Autobahnen vorhanden sein muss."
Picton wies auch darauf hin, dass der Markt für leichte Nutzfahrzeuge unter den gleichen Problemen in der Lieferkette leidet wie der Pkw-Sektor. Halbleiter stellen hierbei ein besonderes Problem dar. Ihm zufolge wird sich diese Situation möglicherweise erst Mitte 2023 wieder entspannen.
Steigende Neuwagenpreise, stabile Restwerte
Vor allem die Listenpreise für Dieselmodelle im Transportersegment sind stärker gestiegen als die für Pkw, und zwar um 7 % im Vergleich zu 4 %. Bei Diesel-Kleintransportern sind die Preise stärker gestiegen als bei E-Transportern. Laut Engelskirchen sind derartige Preissteigerungen ein Zeichen, dass die Hersteller auf eine Preisparität zwischen Verbrennungsmotoren und ihren elektrischen Pendants abzielen, wobei die Preise für Benzin- und Dieselmotoren steigen, während die Kosten für E-Transporter eher sinken.
Das Webinar steht hier zum Download zur Verfügung: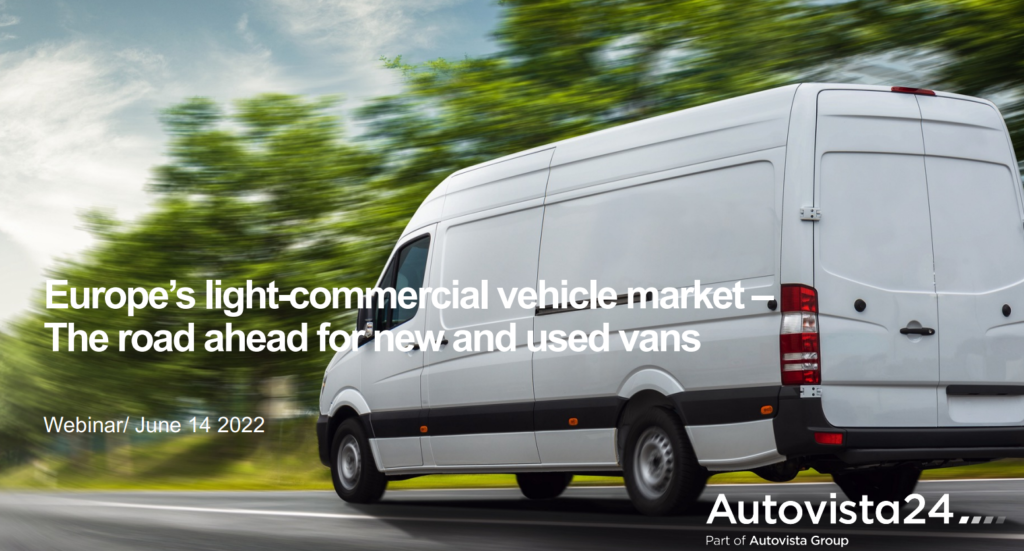 "Der COVID-19-Boom hat für eine Angebotsverknappung auf dem Markt für neue Transporter gesorgt. Dies führte zusammen mit den Lieferproblemen bei Halbleitern dazu, dass alle europäischen Länder eine sehr positive Restwertentwicklung verzeichnen", so Schneider. Die Restwertentwicklung werde zusätzlich von vermehrten Wohnmobilkäufen befeuert, da viele Menschen während der Pandemie auf einen Urlaub in den eigenen vier Wänden setzten. Wohnmobilkunden seien in dieser Hinsicht weniger preissensibel als Firmenkunden.
Derzeit widersetzt sich der europäische LCV-Markt dem Trend zur Elektrifizierung. Zum Teil ist dies darauf zurückzuführen, dass Transporter in Bezug auf Ladezeiten und Reichweite besondere Ansprüche haben. Auch Lieferschwierigkeiten erschweren die Einführung neuer Modelle auf dem Markt. Dies wird sich jedoch bald ändern, da immer mehr Elektromodelle auf den Markt kommen und gebrauchte E-Transporter über diverse Wiedervermarktungskanäle verkauft werden. Obwohl der Sektor dem Trend zu E-Pkws hinterherhinkt, besteht hier ebenso die Anforderung, die Null-Emissionen-Ziele zu erfüllen. Allerdings wird sich auch Wasserstoff in den kommenden Jahren zu einer echten Alternative entwickeln.
Dieser Inhalt wird Ihnen präsentiert von Autovista24.
Wir möchten Sie darauf hinweisen, dass es sich bei diesem Artikel um eine Übersetzung handelt. Das Original wurde in englischer Sprache auf Autovista24 veröffentlicht. Sollte dieser Artikel kleinere grammatikalische Fehler enthalten, bitten wir, dies zu entschuldigen. Im Falle einer Diskrepanz zwischen den beiden Texten ist die englische Version maßgeblich.