16 July 2020
Generally, coronavirus (COVID-19) lockdown measures have been lifted across Europe, and dealers have been able to reopen. However, new-car registrations in the EU fell 22% year-on-year in June, according to figures released by the European Automobile Manufacturers' Association (ACEA).
The volume of new-car registrations fell from 1,222,942 units in June 2019 to 949,722 in June 2020. There were two more working days last month than in June 2019 and so, on a comparable basis, the market declined by about 30% in the month. Nevertheless, this is a significant improvement on the dramatic downturns of 55% in March, 76% in April and 52% in May.
EU new-car registrations, year-on-year percentage change, January to June 2020
Source: ACEA
All 27 EU markets contracted last month – apart from France, which enjoyed 1.2% growth as demand is being stimulated by an incentive scheme that was introduced on 1 June. The €8 billion package includes a €7,000 grant for private buyers (€5,000 for fleet buyers) of battery-electric vehicles (BEVs) costing less than €45,000, while those looking at plug-in hybrids (PHEVs) can claim a €2,000 subsidy. Additionally, France has also doubled its premiums for consumers trading in older vehicles for a cleaner model, with a €3,000 grant for vehicles with internal combustion engines and €5,000 for BEVs.
The volume of new-car registrations was 23% lower in Italy and more than 30% lower in Spain and Germany. In the smaller EU member states, year-on-year contractions of more than 30% were also reported in several markets, including Greece, the Netherlands and Portugal. However, many markets were far more resilient, with downturns of less than 10% reported in Belgium, the Czech Republic and Slovenia.
Year-to-date registrations down 38%
In the first half of 2020, registrations of new cars in the EU fell by 38.1% as the healthier June figures slightly improved the 41.5% contraction suffered in the first five months of the year. The greatest loss among the major markets was in Spain, which has contracted by 50.9% in the year-to-date, second only to Croatia (down 54.4%). The EU market downturn so far in 2020 has been compounded by a combination of tax changes introduced in some member states, which pulled demand forward into December 2019.
New-car registrations, year-on-year % change, June 2020 and year-to-date (YTD) 2020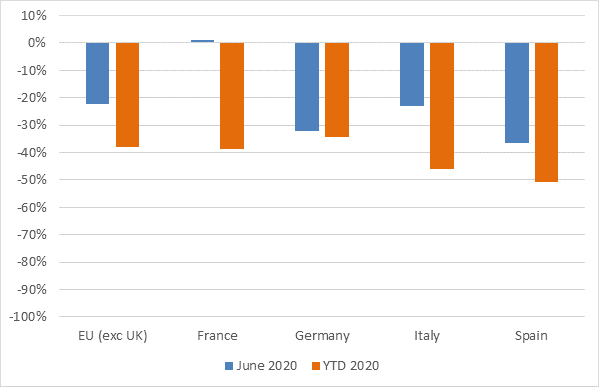 Source: ACEA
As dealer activity has returned in EU markets, a period of recovery is expected in the short term as the backlog is cleared and pent-up demand is released. Some markets may even enjoy year-on-year growth in new-car registrations in July, as happened in France in June.
Beyond this, however, the economic impact will broadly dictate whether markets return to pre-crisis levels. There are also positive and negative side effects of the COVID-19 crisis to consider, such as an aversion to public transport and increased working from home.
EU figures benefit from UK exclusion
Following the UK's departure from the EU on 31 January 2020, the UK is no longer included in the EU new-car registration figures reported by ACEA. The country suffered a greater loss in new-car registrations in June than the EU, with volumes down 35%. Consequently, if the UK was still included in the figures, the new-car market in the EU would have contracted by 24% in June and 40% in the first half of 2020. This was expected as dealers could not reopen until 1 June in England, 8 June in Northern Ireland, 22 June in Wales and 29 June in Scotland, leaving many showrooms out-of-action until late in the month and therefore providing a disjointed picture of sales recovery.
As in other markets, a major surge in registrations is not expected after weeks of dealer inactivity. 'The end of furlough will drive some change towards the end of the year and with Brexit on the horizon, we believe the worst is still to come next year' commented Anthony Machin, head of content and product at Autovista Group's Glass's.
Autovista Group is maintaining its base-case forecast for the UK market, first published in June, of a 30% contraction in UK new-car registrations in 2020. That forecast was a downgrade from the 23% decline forecast in May and 20% forecast in April. In March, before the pandemic took hold, the expectation was that the market would only experience a 3% fall in 2020.
Manufacturer performance
Among the leading European carmakers, Fiat Chrysler Automobiles (FCA), PSA Group and Volkswagen Group registered almost 30% fewer new cars in the EU in June 2020 than in June 2019. Jaguar Land Rover (JLR) suffered the greatest loss, with EU registrations down over 50% year-on-year. New-car registrations of the Jaguar and Land Rover brands fell by 68% and 41% respectively.
Volvo, however, managed to register 1.6% more cars in the EU than in June 2019 and Renault also performed well. The French carmaker's registrations were down by only 16% in the month, buoyed by the demand growth in France, especially for hybrid and electric vehicles.
As Europe emerges from lockdown, manufacturers with a strong electric-vehicle portfolio are expected to perform better than those without as EV consumers are less likely to be tempted by used cars instead of new. This is because they tend to be less price-sensitive buyers but there is also limited availability of the latest electric models on the used-car market.