Spain introduced the new MOVES III incentive scheme for electrically-chargeable vehicles (EVs) on 10 April, which includes hydrogen fuel-cell vehicles (FCHVs) for the first time.
All FCHVs, as well as battery-electric vehicles (BEVs) and plug-in hybrids (PHEVs) that cost less than €45,000 (excluding VAT), are eligible, with the price ceiling rising to €53,000 for vehicles with eight or nine seats. Used EVs that are less than nine months old are also eligible.
It is worth noting that across Spain and the major European markets, the residual-value (RV) disadvantage of BEVs compared to petrol cars has widened since March 2020. The greatest divergence has occurred in Germany, where the gap has widened by just under four percentage points (pp) and stood at 10 pp in January 2021. The divergence accelerated notably following the introduction of enhanced incentives on 1 July 2020.
Cautionary tale
This is a cautionary tale for Spain as it rolls out this new scheme. All governments should look into providing incentives to encourage used-BEV ownership, but these do not need to be straightforward purchase incentives. Lower energy costs for charging BEVs and visible expansion of the charging network would also be powerful signals.
'The biggest potential risk for pressure on RVs stems from the purchase incentives for EVs. A positive and moderating effect comes from the longer-term ownership tax reduction and a lack of company-car tax benefit,' commented Ana Azofra, head of valuations and insights at Autovista Group in Spain.
As detailed in the table below, private buyers of EVs with an electric range of at least 90 km are entitled to a subsidy of €4,500 in Spain, which is reduced to €2,500 for EVs with a range of 30 to 90 km.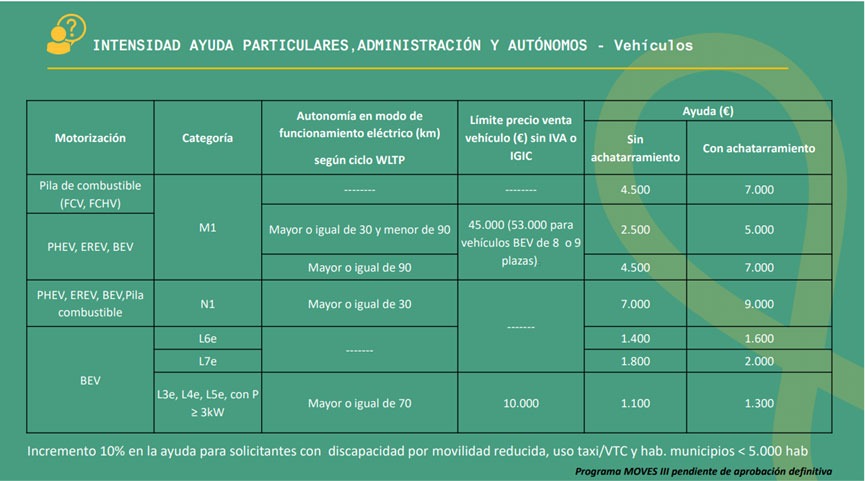 Source: IDAE
For small and medium-sized enterprises (SMEs), the incentives amount to €2,900 for EVs with an electric range of at least 90 km, reducing to €1,700 with a range of 30 to 90 km. For large companies, the incentives are €2,200 for EVs with an electric range of at least 90 km and €1,600 with a range of 30 to 90 km.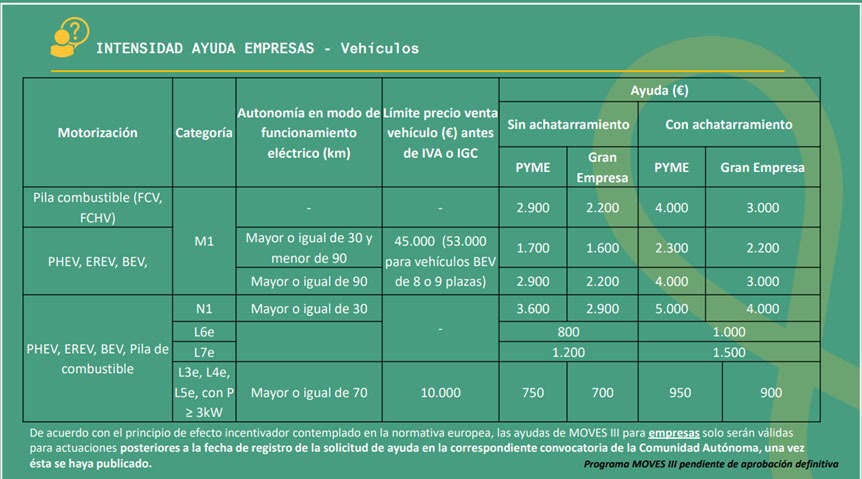 Source: IDAE
The scheme runs until the end of 2023, with an initial budget of €400 million, rising to €800 million dependent on its success. This is significantly higher than the original funding allocation of €100 million for the MOVES II scheme that came into effect in June 2020, which the Spanish government extended by €20 million early in March.
'We have chosen to start with those actions that families, SMEs, the self-employed and, ultimately, the entire fabric of the country can benefit from,' explained Teresa Ribera, vice president of Spain and minister for the ecological transition and the demographic challenge, in the presentation of the MOVES III plan.
'It is crucial to keep pace with the actions promoting the value chain of the automotive sector in our country, with the creation of employment and new business models,' Ribera added.
Unlikely improvement
The new incentives are slightly higher for private buyers but lower for companies. However, the benefits are much greater if a used vehicle over seven years of age is traded in for scrappage. For private buyers, the incentive increases up to €7,000, and up to €4,000 for SMEs and €3,000 for large companies.
'MOVES III constitutes the most ambitious line of support for electric mobility that our country has proposed and will allow and contribute to the economic reactivation in the short term, accompanying the necessary transformation of the industrial model of our country with the economic and environmental objectives,' Ribera said.
Nevertheless, the new scheme is unlikely to significantly improve the fortunes of Spain's new-car market. Registrations grew 128% in March compared with a year ago, but the comparison is distorted by the pandemic. Spanish dealerships closed from 14 March 2020. A more realistic comparison with March 2019 shows the new-car market contracting by 30%. Sales in the first quarter dropped 14.9% against last year's figures, and were 41.3% down on figures from two years ago.
EV uptake should increase, especially among private buyers, but without an improvement in consumer confidence, and a return of tourism, the Spanish market will continue to struggle overall. Autovista Group forecasts that demand will recover from the 32% loss in 2020, albeit by only 6% to about 900,000 units in 2021.