As in-car displays grow in size and scope, the amount of attention they can draw away from the road increases. While some infotainment systems feature touchscreen with haptic feedback, designated control wheels and voice-activated commands, there looks to be a more transparent solution. Are head-up displays (HUDs) the safety feature consumers never knew they needed, or just another gimmick to get in the way? Autovista Group Daily Brief Journalist Tom Geggus goes looking for answers.
The list of cars featuring HUDs is growing, from the Jaguar I-Pace to the Hyundai Kona. These displays are getting smarter too with the implementation of augmented reality (AR), like in the Mercedes-Benz S-Class and Volkswagen ID.3. Panasonic got in on the action as well, revealing its own AR HUD at CES 2021. This rapid uptake is predicted to push the technology's market value over $9.8 billion (€8.1 billion) by the year 2027, according to Yahoo Finance.
The boom is set to reach far beyond passenger cars, as holographic displays pop up in commercial vehicles. Altia Design Research Lab showcased its heavy goods vehicle (HGV) HUD at CES this year.
Built alongside the Texas Instruments DLP team and Ceres, it features a long list of capabilities, including advanced driver-assistance system (ADAS) warnings, bridge-height information, battery temperature cautions, front blind-spot detection and turn-by-turn directions. In an interview with Autovista Group's Daily Brief, Altia's CEO Mike Juran explained why a commercial setting demonstrates not only what a HUD is capable of, but where it could yield the some of its most promising results.
'Combining the HUD with the truck is solving one of our bigger problems on the road, as it relates to safety, productivity and driver engagement,' said Juran. 'If we did nothing in the next several years and could outfit all of these heavy trucks with HUDs, and then move that into the passenger vehicle space, I think we will have done society a great service.'
Heads up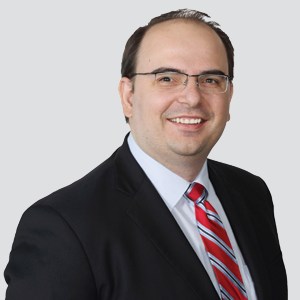 Alongside intelligent personal assistants, autonomous driving capabilities, and solar-powered cars, holographic displays belong to a near-sci-fi class of vehicle technology. So how does this futuristic system work in practice, and what is involved in developing it?
Smart materials and photonics company, Metamaterial Inc (META), designs and manufactures advanced materials and performance function films engineered on a nanoscale, all to control light.
The company fabricates its own holographical combiners, a key component in a HUD's optical system. Therefore, META's president and CEO, George Palikaras, is in a perfect position to help illuminate the complexities of these transparent displays, and what they have to offer.
Palikaras told Autovista Group's Daily Brief that it is important to recognise how many technologies are involved when it comes to HUDs. While the driver might only see one seamless display in front of them, this projection is the result of multiple systems all working together, from augmented-reality software to the projector.
The performance of these elements can then vary depending on what they are made of. 'Are you using glass? Are you using plastic? Are you guiding the light? Or are you reflecting the light off a surface?' Palikaras asked. 'So, there are considerations when it comes to the methodology of controlling the light, and that is one of the things that we specialise in at META.'
A high bar
Other sectors have not missed the potential of holographic technology. Smart eyewear has drawn the attention of major consumer electronics companies. For example, in June last year smart-glasses developer North was acquired by Google, even after the internet giant's turbulent experience with its own attempt at eyewear called Glass, which is now confined to industrial applications.
Not unlike the consumer-electronics sector, the automotive industry has also seen numerous attempts to develop holographic displays since GM first debuted the technology in 50 of its 1988 Oldsmobile Cutlass convertibles.
But as the automotive industry travels further down the digital rabbit hole, crossovers like these will only multiply. This could benefit the development of transferable systems as carmakers team up with tech companies to pool knowledge and resources. However, it also sets the automotive industry on a direct collision course with consumer electronics, as both sectors vie for essential components to build more advanced systems, as can be seen with the current semiconductor shortage.
Development is even tougher for vehicle-based holograms, Palikaras explained. It all comes back to safety because, unlike in the consumer electronics sector, materials used in a car must be qualified. 'That means that they have to be tested rigorously, in extreme conditions. More than 100 degrees centigrade, 100% humidity,' he said. This is so the display could last the lifetime of a vehicle without failing and potentially putting the driver and everyone around them at risk.
Furthermore, HUDs must avoid creating their own safety risks. Holographic gratings and optical elements are known to cause flares, when light comes in at a particular angle, gets captured by the hologram and appears in front of the driver in a rainbow-like flash effect. To mitigate what is fundamentally a physics problem, the materials within the HUD need to be controlled Palikaras said.
'How did you do that?' he asked. 'Well, we do that at meta, because we understand how light interacts with the nanoscale. We can pattern, the glass or the hologram in such a small minute level to fix these challenging problems.'
Safety first
While HUDs should be built to stand the test of time, to outlast challenging conditions and to ensure road safety, consumers also need to see the benefits of such a system. After all, why pay a premium for a device whose functions are already covered by the speedometer and instrument dial. With the inclusion of AR, developers are revealing just how transformational this technology could be to automotive safety.
By tying different vehicle sensors to the HUD, the display becomes capable not only of projecting speed and directions but also visually integrating cues. This can include transparent directions that overlay the road ahead so the driver knows exactly where to turn, avoiding confusion and potential journey disruption. This application is already showcased in vehicles like VW's ID.3.
As can be seen with Panasonic's latest offering, by equipping these displays with sensor data, the potential safety advantages are numerous. 'Imagine you're driving at night, and the infrared sensor that can see through the darkness sees an animal that potentially will cross your path on the highway,' Palikaras said.
'You would have not seen that animal crossing,' he continued. 'And now you have the ability, not only for the sensor to pick it up. But to show you exactly where the animal is with a little red box highlighting it.' While some sensors are capable of seeing what a driver may not, the AR HUD is the medium through which the driver is kept in the loop.
'The future'
So, are HUDs a gimmick? Not according to Palikaras. 'I think it is the future, he said. 'Once companies start collaborating with each other to come up with solutions, that is where I think the magic will happen.'
As large developmental strides are being taken in the automotive industry, HUDs are not solely about removing the need for the driver to look down at the instrument panel. Now they are capable of providing additional information which could prevent a collision that might have otherwise happened. If this technology can save even one life, surely it must be considered a godsend.